In Hawaii they say Aloha. In the Philippines we say Mabuhay. It is a warm welcome from a truly sincere and hospitable people. Filipinos are a sociable group with strong family ties. So join us and share the joy and togetherness that is the Filipino Association of Greater Kansas City!
Ethnic Enrichment Festival, August 21-23
Posted August 5

The Ethnic Enrichment Festival features more than 40 food booths, Scottish Highland games, and other authentic ethnic entertainment. Now in its 36th year, it is one of the largest ethnic festivals in the country. Hosted by the Kansas City Ethnic Enrichment Commission.

You do not need to leave home to travel the world. You can dance an Irish jig, sway to a Brazilian samba or an Israeli hora, among many others. Taste African-American fried-bread, Lithuanian potato pudding, Jamaican jerk chicken, Japanese shrimp tempura, French crepes or a Filipino cantaloupe juice. More...
Free Health Fair
Posted August 5

Think healthy, stay healthy! Receive FREE healthcare services and information at this invaluable fair. There will also be door prizes and giveaways, so tell your family, friends, and neighbors! The event will take place in the banquet hall at Redemptorist Church. Help spread the word! More...

Fiesta Filipina: A Celebration of Culture and Community
Posted May 30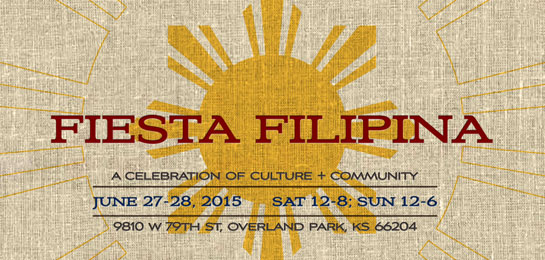 Our biggest summer activity returns as Fiesta Filipina, an annual showcase of Filipino culture, food, dance, music, and games, takes place at the Filipino Cultural Center the weekend of June 27-28.

The Fiesta commemorates Philippine Independence and will feature: a sampling of favorite Filipino cuisine, performances by the Sinag-Tala Dance Troupe and Sampaguita Choir, and arts and crafts from various vendors, among others.

Visit the OFFICIAL EVENT WEBSITE for more info!


Support the Filipino Association! When you shop at:
Amazon donates 0.5% back.