In Hawaii they say Aloha. In the Philippines we say Mabuhay. It is a warm welcome from a truly sincere and hospitable people. Filipinos are a sociable group with strong family ties. So join us and share the joy and togetherness that is the Filipino Association of Greater Kansas City!
Filipino Association Day at the K
Posted July 7

The boys in blue are red hot! Join us on July 27 as the Royals take on the Cleveland Indians. We have a limited number of group tickets available for $18 each. Seats are in the Hy-Vee Box. Payment must be received by July 20 to reserve your tickets. Pay online or contact etumanut@filipino-association.org. GO ROYALS! More...

Masters of the (Magic) Mic
Posted June 30

Are you better than karaoke? Then prove it! SAVE THE DATE for a fun sing-off at the Filipino Cultural Center on Friday, August 1! Interested contestants need to submit a 2-minute audition video (i.e., YouTube) by July 14 to bsakach@filipino-association.org to be considered by the selection committee.
Everyone else: bring your family and friends to vote for your favorite vocal talent! Or you'll be able to vote online if you can't make it. There will be food for sale, and prizes for those who have the courage to belt it out in front of our panel of judges. All proceeds benefit our revamped scholarship program. More...
Fiesta Filipina 2014
Posted May 16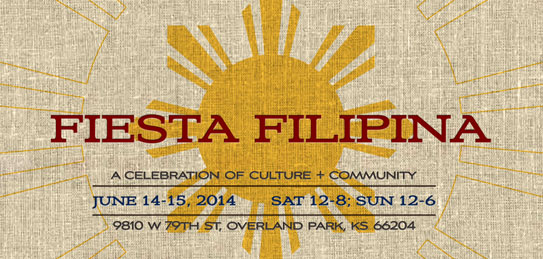 Our biggest summer activity returns as Fiesta Filipina, an annual showcase of Filipino culture, food, dance, music, and games, takes place at the Filipino Cultural Center the weekend of June 14-15.

The Fiesta commemorates Philippine Independence and will feature: a sampling of favorite Filipino cuisine, performances by the Sinag-Tala Dance Troupe and Sampaguita Choir, and arts and crafts from various vendors, among others.

Open Saturday 12-8 PM; and Sunday 12-6 PM. Admission is FREE. More...